The Annual Meeting is an opportunity for members to catch up with each other and Food Works, and to share their needs for the coming year though voting on field day and workshop topics. Members of the Southern Illinois Farming Alliance, Food Works, and the IDEA Farm Network are encouraged to attend, and are welcome to invite guests interested in sustainable food and farming in Southern Illinois.

The 2021 Annual Meeting was held Sunday, February 28th, from 2-3pm via Zoom. Registrants were also invited to tune in early to watch Gaining Ground, Food Works' 2014 documentary about the food system of Southern Illinois. Please reach out to Farming Alliance Coordinator Karen Jensen-Britton at karen@fwsoil.org for more information on the updates and resources shared at the meeting.

Though we couldn't boast the "best farmer potluck in Southern Illinois" this year, we were still able to enjoy a taste of Southern Illinois together with offerings of Membership Boxes- a selection of local treats donated by farmers, plus a Food Works t-shirt!

Thank you for celebrating Southern Illinois farming with us!

Made Possible by Members
Help support the ongoing work to grow sustainable food and farming in Southern Illinois. ​Please consider become a member or renewing your membership in 2021. Support from community members like you makes our programs possible, including the Farming Alliance, Farm Beginnings, the winter Carbondale Community Farmers Market, and SNAP & Link Match in Farmers Markets.

Learn more about the benefits of membership and sign up online or by printing this membership form and mailing it along with a check to Food Works, PO.Box 3855, Carbondale, IL 62902. Thank you.
Time to renew? Renew your membership here:
Renew Now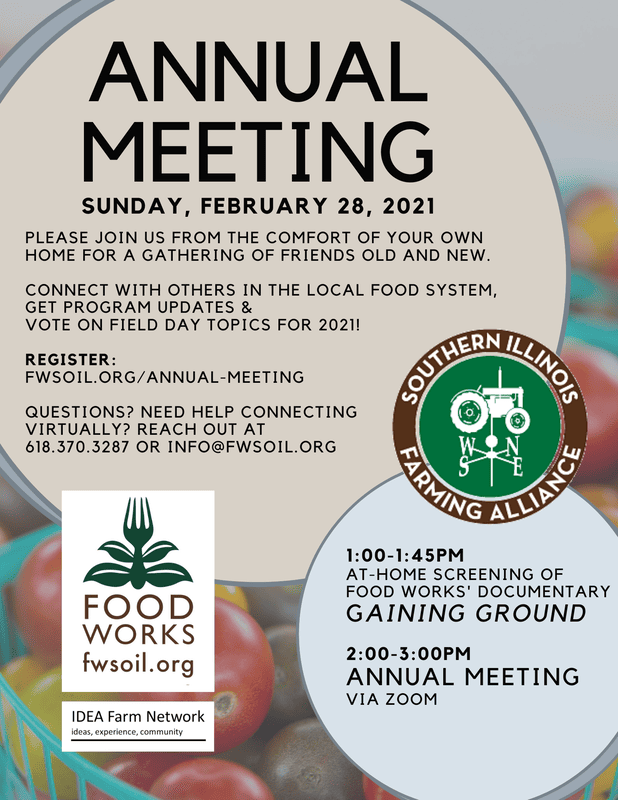 The IDEA Farm Network
The IDEA Farm Network is a farmer-led learning community that explores and implements ideas and approaches that balance farm productivity, profitability, and environmental health. The IFN farmer learning community creates a comfortable and lively space for farmers, scientists, and advocates to share diverse experiences, information and views that advance regenerative agriculture