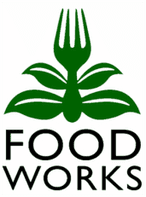 Who We Are:
Mission
Food Works is a non-profit organization dedicated to creating a sustainable food economy in Southern Illinois.
Vision
Through farmer training and consumer education, Food Works promotes long-term farming networks that create healthy soils, healthy food, and healthy communities in the 23 counties that make up Southern Illinois.
Geographic Reach: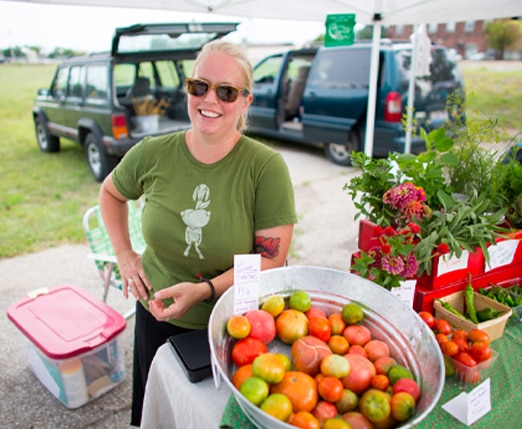 ​Food Works serves the 23 southernmost Illinois counties and, at times, bordering areas in Missouri, Kentucky, Indiana, and Arkansas. The region is characterized by prairie that transitions into the Shawnee Hills and then into the big river floodplains of the Mississippi and Ohio Rivers. Southern Illinois is well known for its rich history of fruit and vegetable production, including century-old orchards. Northern areas still produce grain and cattle; southern regions grow rice, cotton, grain, and vegetables. Recently, the region has experienced a resurgent growth in its fruit production, with an emphasis on vineyards and wineries. Through a highly organized and effective campaign, the Shawnee Hills region was designated as an American Viticultural Area. This establishes precedent that Southern Illinois, with its rolling terrain and warmer climate, has great potential to expand and diversify beyond traditional agricultural models given adequate support.
About Food Works:

Food Works funds and maintains five main food and farming programs for Southern Illinois:

- The Carbondale Winter Farmers Market.

- Administrative set up of the Supplemental Nutrition Assistance Program (SNAP) at local farmers markets and double value assistance for low income community members who buy from farmers markets.

- The Farming Alliance, an educational and communication network of Southern Illinois farmers.

- Farm Beginnings®, an intensive training program for beginning and transitional farmers, which aims to create financially solvent and flourishing local farms through education and mentorship.

- Food Works' Mobile Farmers Market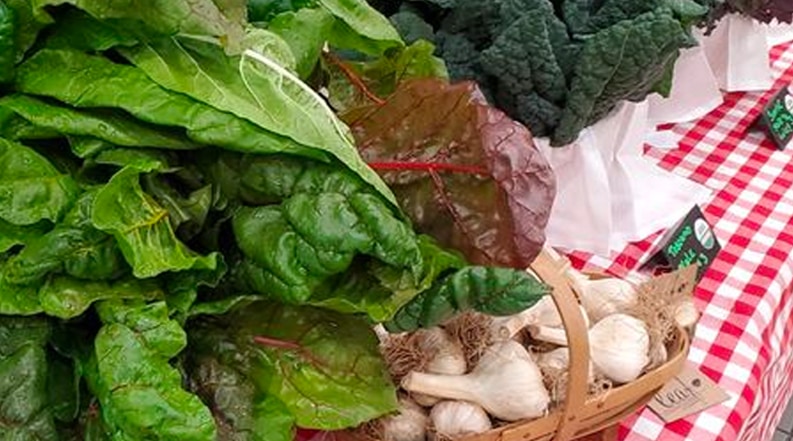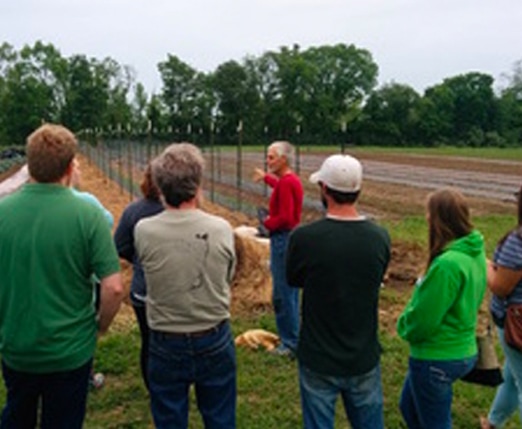 Since 2008, Food Works has provided training and support for new and existing growers, along with consumer education that helps people connect with local food and farming. In establishing Food Works, Dayna Conner, the organization's founder and first executive director, created practical programs to ensure that food grown in Southern Illinois is produced and marketed in ways that respect and honor growers and the living communities of which they are a part.

Food Works' farmer education includes workshops through the Farm Beginnings® program for prospective new growers and those considering organic certification. It supports research into local food systems development, and promotes programs and partnerships that help sustain farms, farm economies, human and ecological health, and access to local food. Throughout the year, Food Works hosts farm tours, events, and film screenings for farmers and consumers who want to learn more about how their food is grown, and by whom.
Timeline:
2008
Initiated Community Food Assessment for Jackson and Union Counties. Began filming Local Food System documentary for Southern Illinois.
2010 Launched Southern Illinois Farm Beginnings®; Launched Southern Illinois Farming Network

2011 Initiated Regional Food Systems Project; recruited and led steering committee of community leaders.

2012 Commissioned economic analysis of the region (See Crossroads presentation); hosted analyst's presentation to stakeholders.

2013 Assisted with launch of the new Carbondale Community Farmers Market.

2014 Hosted Documentary Film Series – Community Outreach program.

2015 Opened a new, weekday Downtown Farmers Market; Co-sponsored and organized the first Eat Local Challenge in Carbondale; Partnered with Southern Illinois Healthcare to launch a four-month trial of the first Double Up Food Bucks program in Southern Illinois to boost low income families' access to farmers market produce.

2016 Hosted Fall Feast at Alto Vineyards and Rock the Plate at the Old Feed Store, pairing farmers with local chefs for unique, regionally sourced meals for the public.

2017 Organized the region's first Farmer, Brewer, Baker Grain summit, connecting regional farmers with brewers and bakers.

2018 Organized first Farm Tune-Up Workshop for farmers with 3-10 years of experience, facilitated SNAP and Link Match program at the Benton Farmers Market. & the Community Farmers Market, held the largest Fall Feast to date with 125 attendees at Alto Vineyards, welcomed third Executive Director, Jennifer Paulson.

2019 Continued growth of SNAP and double coupons (Link Match) in farmers markets, Held 6 on-farm field days on sustainable farming topics. Collaborated with the Neighborhood Co-op on a sold out Farm Crawl.

2020 Expanded SNAP & double coupons (Link Match) to two new farmers markets, held Food Works' first virtual field day on Climate Change and Agriculture in Southern Illinois, held a virtual Farm Crawl & local food meal kit fundraiser with LEAF Food Hub, hosted the second Farm Tune-Up Workshop series, moved the Carbondale Community Farmers Market to a new location at the University Mall and piloted an online farmers market in addition to a socially distanced in-person market.

2021 Continued support of SNAP & double coupons (Link Match) at four local farmers markets; Received the Beginning Farmer Rancher Grant, which allowed us to expand the Farm Beginnings Program, which had 11 trainees; Conducted a Virtual Farm Dreams workshop with The Land Connection, Routes to Farms and Angelic Organics Learning Center.

2022 Piloted the Southern Illinois Link Hub, added four farmers markets, and continued SNAP & double coupons (Link Match) at four farmers markets (8 markets total), Collaborated with the Neighborhood Co-op on the annual Farm Crawl, Held 4 virtual and on-farm field days, Received an expanded Beginning Farmer Rancher Grant and have 11 trainees in the Farm Beginnings Program.